トゥプテン・ジンパ氏【Wisdom2.0登壇者紹介】
2019.12.14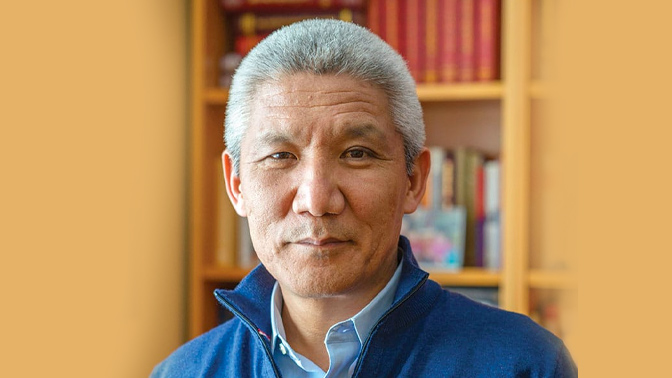 (English version : click here)
トゥプテン・ジンパ氏が来年3月開催のWisdom2.0Japanに登壇が決定しました。
トゥプテン・ジンパ氏はダライ・ラマ法王の通訳としてもっとも著名です。
その他にも学者、著者、科学と仏教を結ぶ対話の牽引者としての重要な役割も担っています。
これらの活動すべての原動力となっているのは、人々がよりコンパッションを実践するようになることを手助けする、というジンパ氏の使命感です。
登壇者紹介: トゥプテン・ジンパ氏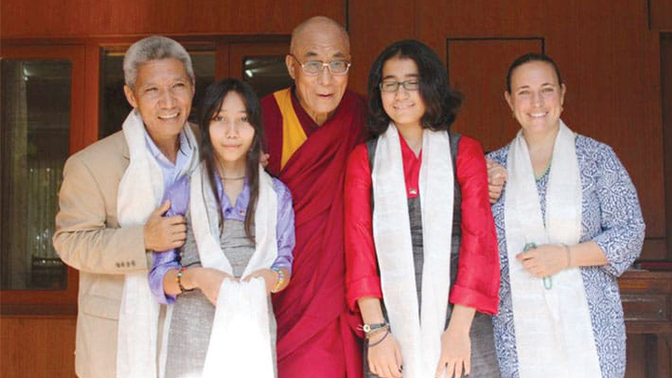 ジンパ氏とご家族、ダライ・ラマ14世と
一歳の時に中国の侵略を受けたチベットから家族と共に追放されたジンパ氏はインドで育ち、
チベット仏教の世界における地位を確立したパイオニアの一人となりました。
現代社会と古より続くチベット仏教の架け橋になるものは「コンパッション(思いやりの心)」であることにジンパ氏は気付きます。
11歳の時にジンパ氏は僧侶になりましたが、僧院でただ経文を記憶し唱えるだけの学びに、より学術的な探求の必要性を感じました。
それを実現するための第一歩として、氏は漫画やラジオを利用して英語を学び始めました。 同時に、仏教とチベット語の知識を深めていきました。
1985年に当時住んでいたダラムサラで引き受けたダライ・ラマ法王の通訳の仕事が認められ、それ以来、ジンパ氏は事あるごとに法王から通訳を依頼されるようになりました。
ダライ・ラマ法王の近くで働くことが出来るようになるとは夢にも思わなかった、
これはチベットを追われ苦労しながら自分を育ててくれた両親が払った犠牲を讃えることにもつながる、と氏は涙ぐみます。
しかしジンパ氏には個人的な夢がありました。
家族を持つ、という夢です。
ケンブリッジ大学に留学した氏は、その夢を叶えるため、卒業と同時に還俗(げんぞく。俗人に戻ること)することにしました。
そのことを謝罪する手紙をダライ・ラマ法王に送った数ヶ月後、法王から通訳の依頼を受けます。
法衣をまとわず髪を生やした姿で仕事に現れたことを謝ると、法王は、
「君は以前から頭でっかちだったが、髪を生やした今は良さが増した」と笑いました。
「還俗したことは残念だが、考え抜いた末の決心のはず。その決心を尊重している」と、法王は付け加えました。
この言葉からコンパッションについて多くを学んだ、とジンパ氏は言います。
「叱責する代わりに法王は私の立場に立ち、私を理解し、私の視点で状況を見て下さいました。このことによりすべてが変わりました。」
さらに、父親になったことで、頭でしか理解していない部分のあったコンパッションに対する考え方が変わった、とも氏は言います。
「コンパッションにまつわる感情の多くを、僧侶だった頃は想像していただけでしたが、親になって実際に経験することが出来ました。
親が愛する子供に100%の注意を向けるように、完全にその場に心がある状態になる上で、コンパッションと瞑想が役立つのです。」
家族と共に生活することで、ジンパ氏はダライ・ラマ法王と一般の聴衆との間にある隔たりを埋めることに一役買うことが可能になったと言います。
「俗人としての生活を通して、聴衆が法王に本当に聞きたいと思う意図を汲み取りながら質問を通訳したり、
反対に法王のおっしゃることを聴衆にわかりやすい言葉に噛み砕いて訳したりすることもできるようになったと思います。」
(Lion's Roar, "Thupten Jinpa, Voice for Compassion"より抜粋およびトップ画像引用)
Wisdom2.0ラストチャンスチケット2月29日まで発売中!
2020年3月21日(土)・22日(日)
虎ノ門ヒルズフォーラムにて開催
現在、14%OFFのラストチャンスチケットを発売中です。(枚数限定)
定価からお得に買える最後のチャンスです!ぜひお見逃しなく。
Thupten Jinpa is now officially set to speak at Wisdom2.0Japan next March!
He is best known as the Dalai Lama's translator, but this Buddhist Renaissance man has many roles—scholar, author, and leader in the dialogue between science and Buddhism. Driving them all is his mission to help us all be more compassionate.
Speaker Profile: Thupten Jinpa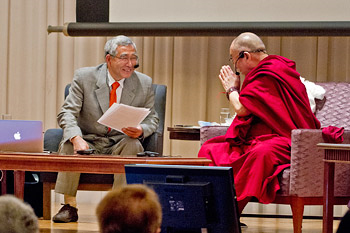 Image sourced from: Office of Tibet, Japan
In 1958, when a failed revolt against Chinese occupiers drove hundreds of thousands of Tibetans, including major Buddhist figures such as the Dalai Lama, into exile.
Thupten Jinpa Langri was one of that first generation of Tibetans who grew up in exile. Now fifty-eight, he has been a pioneer in helping the Tibetan Buddhist tradition find its place in the world. The bridge he's found between modern society and his ancient religious tradition is compassion.
Thupten Jinpa was just one year old when his family fled to India in 1959 in the wake of the Dalai Lama's escape. At a school for refugee children, he had a traditional Tibetan Buddhist education. "Every Sunday afternoon, a monastic teacher would give a dharma teaching," Jinpa remembers. "He told stories about Buddhism coming to Tibet, the sacrifices great translators made, and the invention of the Tibetan language system. The traditional culture was being preserved with the children."
When Jinpa was eleven, he decided he wanted to become a monk. He joined his father's monastery in southern India, but soon became frustrated with its lack of academic exploration. "The main education consisted of memorizing and chanting liturgical texts without knowing their meaning," he says. "I felt intellectually restless and increasingly uncomfortable."
Jinpa realized that learning English was the key to exploring new ideas. "I had a basic ability to read English but my conversational skills were almost nonexistent," he says. "I made do with comic books and a cheap used transistor radio. The Voice of America had a unique program broadcasting in English, in which the presenter spoke slowly and repeated every sentence twice. This was immensely helpful." At the same time, Jinpa deepened his knowledge of Buddhism and the Tibetan language with a teacher named Zemey Rinpoche, who recognized the young monk's restless intellect.
Then in 1985, twenty years after he had held the Dalai Lama's hand as a small boy, Thupten Jinpa got a surprise call. His Holiness was scheduled to teach in Dharamasala but his English translator was not going to arrive in time. Jinpa had been recommended.
Afterward, the Dalai Lama asked to see Jinpa in his office, where he said, "I know you. You're a good debater. You're a good scholar. But I never knew you spoke English. How come I never knew?" Jinpa sheepishly explained to His Holiness that he'd kept a low profile because if others in the monastery knew how well he spoke English, he'd be inundated with tasks. His Holiness said, "People tell me that you have a very easy English to listen to. Would you come with me when I need you to interpret, and on my travels?"
Jinpa was in tears. "In my wildest dreams, I never thought I would have the honor of serving the Dalai Lama so closely," he says. "For a Tibetan who grew up as a refugee in India, serving the Dalai Lama was also a way to honor the sacrifices our parents had to make in their early years of exile."
"The strange karma I had of being a monk, yet knowing English, was pushing me to be a medium between the two cultures."
Jinpa also had to face what his heart was telling him—he wanted a family of his own. "I'd had a yearning for family since my early twenties. The yearning was even stronger after my undergraduate time at Cambridge. So I made the decision to give back my vows."
Jinpa wrote the Dalai Lama a long letter to apologize if he had disappointed him. A couple of months later, Jinpa got a call that His Holiness wanted him to translate in Switzerland. He explained that he was no longer a monk, but the Dalai Lama's secretary said that His Holiness had personally requested him.
When he saw His Holiness, Jinpa remembers, "I said, 'I'm so sorry to turn up like this in trousers instead of robes.' The Dalai Lama laughed and said, 'You always had a big head. But now, with hair, it looks even more impressive.' His Holiness told me, 'I'd be lying if I said I wasn't disappointed and saddened by your leaving the monastic life, but I know you have not taken this decision lightly. I respect your judgement.'"
Jinpa says His Holiness' reaction to his decision taught him a lot about compassion. "He could have scolded me. But he got to my level, understood me, and looked at the situation from my perspective. That changed everything."
Jinpa says becoming a father changed his perspective on compassion, which had been a little theoretical. "It helped me make real many of the sentiments around compassion that we, as monks, visualize and imagine. In the face of an infant's immediate need, a loving parent is completely there for that child. That unconditionality, that total presence, is the quality of mind and heart that compassion and meditation tries to cultivate for all beings."
Being a family man has allowed Jinpa to act as a bridge between the Dalai Lama and lay audiences. "Sometimes a question does not fully capture what an audience member wants to ask," says Jinpa. "As a lay person with a family, I may be able to translate those unwritten assumptions. Conversely, I may also be able to explain certain points of His Holiness' to the audience in a way that is more understandable because of my life situation."
(Excerpts and top image sourced from Lion's Roar, "Thupten Jinpa, Voice for Compassion")
Last Chance Tickets (14% off) now on sale Until Feb 29.
The 2-day conference is scheduled to be held on
Saturday 21 and Sunday 22 of March, 2020, at Toranomon Hills Forum.
Our first Wisdom2.0 in Japan is finally here!
The Last Chance tickets are now on sale for a limited time. Don't miss this opportunity to reserve your seat at a 14% discount rate!
HOME>
トゥプテン・ジンパ氏【Wisdom2.0登壇者紹介】