【Update:March 6】Notification of Postponement of Wisdom2.0Japan
due to the Spread of Corona Virus
Dear all,

I am Junya Ogino, Co-founder of Wisdom2.0Japan.

In light of the rapid spread of coronavirus in Japan in the past few days, we have decided to postpone Wisdom2.0Japan that was originally scheduled to take place on March 21 and 22, 2020.

-The event has been rescheduled to October 17th & 18th (Saturday and Sunday).

- We have already selected several potential venues in central Tokyo for our rescheduled event, but yet to finalize the location. We will inform you as soon as it is decided.

- Regarding our speakers list, we are currently in touch with those who were initially scheduled to speak in March and are in the midst of discussing this new arrangement. New speakers might be invited.

- If you have already purchased a ticket from us, we welcome you to participate in Wisdom 2.0 Japan on October 17th & 18th. However, if you wish to cancel it, please go through the Peatix's message we sent you and we will process the refund.

We believe it is becoming more and more necessary in the world where radical changes happen such as this present situation and making predictions is difficult, for us to pursue the ways to live and be that are rich in humanity, connected to our true self, even with the help of technology.

We also believe that the philosophy and messages of Wisdom2.0 will become more important from the year 2020. Thus, our team is striving to make our first Wisdom2.0Japan even more evolved when it happens later this year.

We hope that you take great care of yourself as well as those around you, and thrive in this chaotic phase of our time.

Thank you very much.

Junya Ogino
Wisdom2.0Japan

Living Mindfully and Wisely
in the Digital Age.
In times of chaos, find your path, and allow your life to blossom.
And what if you can also contribute to a creation of a better future? …
Instead of asking "what should I do?" why not ask "what the world can become through/because of me?
Such ideas were proposed by many great thinkers such as the author of "Reinventing Organization", Frederic Laloux and author of "New Earth", Eckhart Tolle.
It's about time we connect the power of human instincts and intuition through our "wisdom = inner technology".
To foster a greater understanding of our world and humans in general, let us listen and learn from the wisdom of global leaders across different fields of technology, religion, science, and business.
Then choose one of the many spaces we create here to digest that you've learned as your own wisdom, whether it's in a quiet surrounding or through experiential interaction with other participants.
Bring positive change and growth to yourself. Create a better world.
Wisdom 2.0 Japan is a fun and relaxing conference committed to the cultivation of wisdom.
"The Vision of Wisdom 2.0" by Wisdom 2.0 founder Soren Gordhamer.
Wisdom 2.0 finally coming to Japan!
Wisdom 2.0 was held for the first time back in 2009 in Silicon Valley and since then has spread over to New York, Ireland, Paris, Singapore and other parts of the world.
Today, Wisdom 2.0 has evolved from 300 participants to now over 5,000 people and has hosted some of the world's most influential people on stage, such as founders of Twitter, Facebook, and eBay.
As we reap the many benefits of living in an era of AI, robotics, and IT technology, let us also create a new paradigm of living more mindfully.
This is one of the most impactful events of the 21st century. Please join us!
Wisdom 2.0 US Highlight Video
Wisdom 2.0 Japan Speakers

Social psychologist, positive psychologist, Principal Investigator of the Positive Emotions and Psychophysiology Lab (PEPLab) at the University of North Carolina.

Barbara Lee Fredrickson

A "rare genius" in the field of social psychology (positive psychology) as praised by Dr. Seligman, the founder of positive psychology, Barbara is a world-class researcher known for her "broaden-and-build theory of positive emotions," and had pioneered research on human emotions, love, and connections.

Co-Founder of Center for Humane Technology.

Tristan Harris

Called the "closest thing Silicon Valley has to a conscience," Tristan is one of the most enlightening leaders of our time. After making a success in the field of the IT industry, he warns the world of domination by technology and capitalism. Tristan Harris was named by Rolling Stone as one of the top "25 People Shaping the World."

Founder-Abbot of Upaya Zen Center, social activist, and anthropologist.

Joan Halifax

Joan is a flagship leader of Engaged Buddhism and also a mentor to many world leaders. She has taught and cultivated wisdom in some of the most complicated places on earth, such as in post-disaster areas, prison cells, and palliative care hospitals.

Founder of Seach Inside Yourself Leadership Institute (SIYLI), writer, philanthropist & social activist.

Chade-Meng Tan

Chade Meng was an engineer in Google and also the author of Search Inside Yourself, a best-seller that has sparked mindfulness practices in Google and worldwide. He has been nominated 8 times as a Nobel Peace Prize nominee.

Founder of Wisdom 2.0

Soren Gordhamer

After traveling around the world on peace walks to promote peace and environmentalism, Soren became a social activist and served as the director of an NGO that supports the Dalai Lama. In 2009 he launched Wisdom 2.0 and grew it into a global movement.

Ph.D. in Religious Studies, from Cambridge University Principal
English translator to Dalai Lama

Thupten Jinpa

(born 1958) is a Tibetan Buddhist scholar, former monk and an academic of religious studies and both Eastern and Western philosophy.
He has been the principal English translator to the Dalai Lama since 1985. He has translated and edited more than ten books by the Dalai Lama including The World of Tibetan Buddhism, A Good Heart: A Buddhist Perspective on the Teachings of Jesus, and the New York Times bestseller Ethics for the New Millennium.

Managing Executive Member of CHRO HR General Affairs Division at Calbee Co., Ltd.

Masako Takeda

As the Director of Human Resources in Credit Saison, Masako came up with many HR-related strategies for the company. In 2018, he became the managing director of human resources in Calbee Inc. and is working towards the creation of an organization where everyone can play an active role in it. He was also awarded the HR Award Grand Prize of 2018 by the Human Resources Department of Japan.

Soto-sect Zen Priest

Issho Fujita

At the age of 28, Issho dropped out of his doctoral course at the University of Tokyo and became a monk a year later. He moved to the US at the age of 33 and since then has taught zazen meditation at Valley Zendo, Massachusetts for 17 and a half years. He is also a prominent zazen teacher for many big American companies such as Starbucks and Facebook.

Head of Editor at WIRED JAPAN

Michiaki Matsushima

Edited publications such as "Digital Well-Being" for the Japanese version of tech culture media company "WIRED". Prior to this, he has worked with NHK Publisher and handled the publishing of many award-winning bestsellers such as "Free" and "Zero to One" which has brought new ideas and cultural values to Japan.

President and CEO of Sansan Co. Ltd

Chikahiro Terada

Chika started his career at Mitsui Company, where he engaged many Silicon Valley ventures in Japan and also supported the development of many new venture companies within Japan. In 2007, he established Sansan Co., Ltd which was listed on the stocks exchange in June 2019. He is one of the most notable entrepreneurs in Japan.

Dean and Professor at the Graduate School of System Design Management, Keio University.

Takashi Maeno

Japan's leading researcher on the science of happiness. Takashi has published numerous papers and lectured on the subject of happiness and wellbeing. He is also working with companies to increase the happiness of their employees and in society in general. A representative of Shiawase 3.0 and many other think-thanks focusing on the research of human wellbeing.

Kado-ka or "Flower arrangement" expert.

Mayuka Yamazaki

Visiting editor at the Harvard Business Review (Japan). Creator of IKERU, an initiative to bring Ikebana's wisdom into businesses and human resource development. After working as a management consultant and project assistant at McKinsey and Tokyo University respectively, Mayuka became a liaison director for the Harvard Business School (HBS) until August 2016, during which she co-authored about 30 HBS cases about Japanese companies, business leaders and societal issues with HBS professors.

Biotope representatives/ Chief Strategic Designer

Kunitake Saso

Kunitake completed a master's degree in design methods from the Illinois Institute of Technology. He has worked for P & G, where he helped the marketing of several hot selling products such as Febreze and Lenor, and also worked for Sony Company where he launched the Sony Seed Acceleration Program at the Sony Creative Center. He then founded Biotope Inc, a co-creation strategic design firm.

Stone Flute Musician

Kazuya Yokozawa

Kazuya first encountered Ishibue "Stone Flute" at Okuyoshino-Tenkawa Benzaiten-shrine in Nara and was fascinated by its tone and sound. Skilled in the breath-playing of Shibue stone flute, Shinobue flute, regular flute mixed with his own voice, Kazuya is an active performer worldwide known for his spiritual musical performances.

Professor at the Graduate School of Business and Finance, Waseda University

Akie Iriyama

After his experience of working in consultancy at the Mitsubishi Research Institute, Akie went on to study and receive his Ph.D. from the University of Pittsburgh's School of Management and became an Assistant Professor for the business school department at The State University of New York at Buffalo. He took on his current position in Waseda since 2013 and specializes in teaching business strategy and international management. His latest work is "Global Standard Management Theory" (Diamond Inc).

Vice High Priest of Pure-land Sect Korinji Temple

Koubou Inoue

Born in 1979 in Utsunomiya, Japan. Hironori studied Pure Land Buddhism at Bukkyo University and went on to study clinical psychology at Tokyo Gakugei University. Since then, he has been involved in the launch of the TV program "Bucchakeji" and the lifestyle consultant site hasunoha. His goal is to introduce a new gateway for Buddhism into our modern life and has authored a book entitled "心理学を学んだお坊さんの幸せに満たされる練習(Achieving Happiness: Lessons from a Buddhist Psychologist and Priest)" (Nagaoka Shoten).

Founding Editor in Chief of FINDERS

Tomohiko Yoneda

Born in 1973 in Fukuoka. Tomohiko is engaged in the field of publishing such as planning, editing, writing, and producing various work related to web, corporate PR, product development, event management, TV and radio appearances. From 2014 to 2017, he was the editor-in-chief of Lifehacker (Japan Version) and has authored the book "僕らの時代のライフデザイン(Life Design in Our Era)" as well as "デジタルデトックスのすすめ (Recommendations for Digital Detox)." He launched the magazine "FINDERS" in 2018.

Supervising Editor in Chief of BUSINESS INSIDER JAPAN / former Editor in Chief of AERA

Keiko Hamada

Beginning her career in 1989 at the prestigious newspaper company, the Asahi Shimbun Co., Keiko was transferred to the weekly magazine AERA in 1999. As a journalist, she has specialized in covering world news and the issues seen of the modern female career and lifestyle. Becoming the deputy editor in 2004, deputy editor in chief, Keiko became AERA's first female editor in chief. Starting April 2017 Keiko is now the Japanese supervising editor in chief of an online business news media that spans over 17 countries worldwide. She will be continuing commentary at TV programs "Shinichi Hatori Morning Show" and "the Sunday Morning" and lectures on topics including but not limited to diversity and labor reform.

Global character that everyone knows

Kitty White

With her strong conviction that people should come together with a caring heart, strategic cooperative relationship between the United Nations and the Sustainable Development Goals (SDGs) has come to fruition.
Hello Kitty is a You Tuber who raises awareness by traveling around the world, creating and delivering content via social media and educating the world about the progress and activities related to SDGs.
Wisdom2.0 Japan Field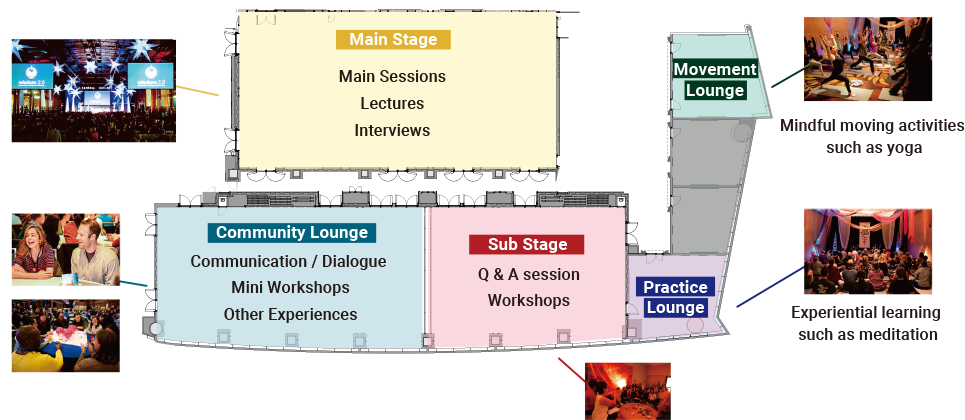 Main Stage

This is where speakers will be presenting their keynote speeches.

Sub Stage

This is where you'll have the chance to interact with our main speakers through Q&A sessions, workshops, and other kinds of creative formats unavailable at the main stage.

Movement Lounge

Various kinds of bodywork classes such as yoga are held several times a day.

Practice Lounge

Mindfulness sessions are held all day long, as well as collective meditation on the last day.

Community Lounge

This is the space for you to explore Japan's unique "wisdom" and connect with other like-minded participants.
You may also take a rest here.
Gallery